Rastoke Fairytale
Discover the beautie of Rastoke village accompanied by our guide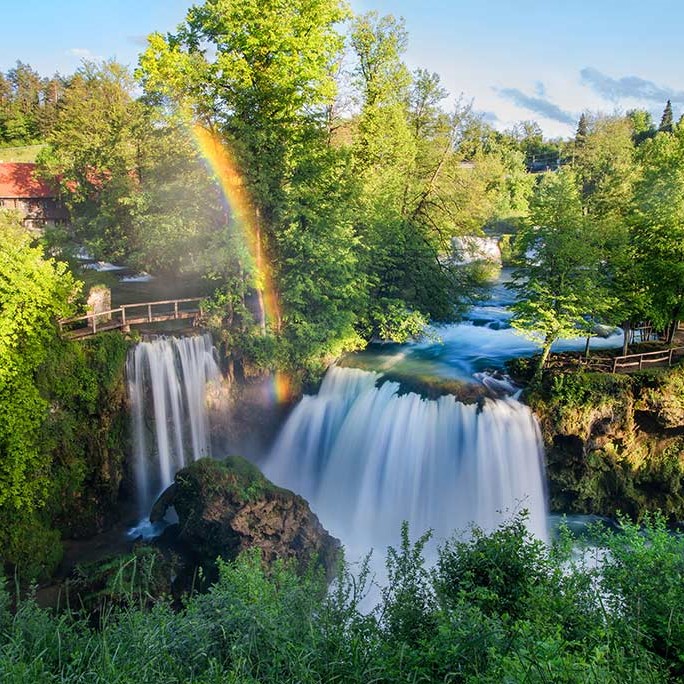 Rastoke Fairytale – guided tour
ABOUT
Guided tour of the beautiful Rastoke village. Explore the old watermills and culture of this place surrounded with water and waterfalls
TOUR TYPE
Guided tour, Groups, Family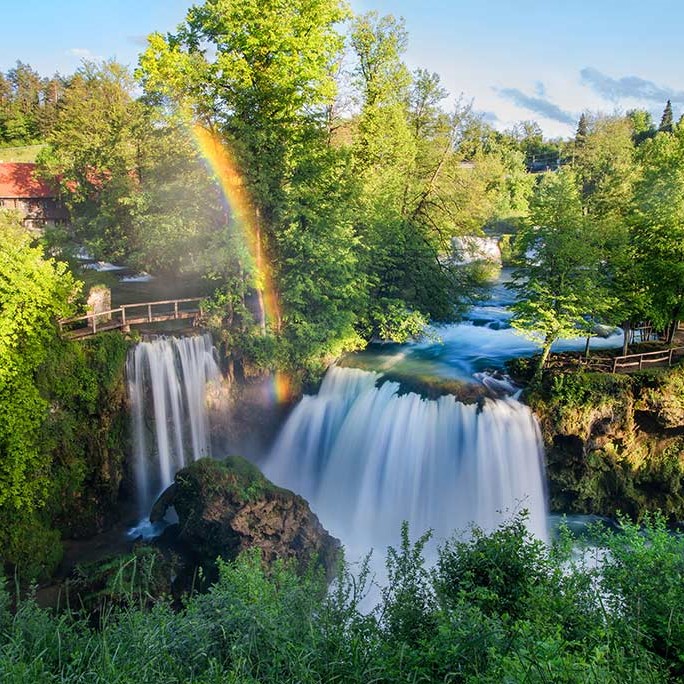 Rastoke Fairytale - guided tour
Book your private tour of Rastoke with a local guide!
Explore Rastoke with us! Relax in the untouched nature of our rivers and enjoy the beauty of numerous waterfalls. Thanks to our guide, expect plenty of interesting stories and fairytales about this stunning waterfall paradise.
TOUR PROGRAM- Rastoke sightseeing up to 1,5h
Arrival at the water pearl where our guide welcomes you.
We start our tour above the last waterfalls, descend into Donje Rastoke by crossing one of the oldest bridges, where we visit the mills and estates of Rastok natives. In Donji Rastoki, we visit the old mill where we will describe and show you the operation of the old mill in detail and where you can buy various grain products.
After getting acquainted with the old ways of working, which fortunately have survived to this day, the road leads us to Gornji Rastoki, where the most beautiful Rastoki estates are located, after visiting which we continue to the newly renovated promenade and lookout point, where the tour of this Croatian jewel ends.
Every day - We organise the trip every day. Choose your time depending on the availability. Please note you need to book the trip in advance!
+ Old mill - Visit to the old mill from the 17th century with a presentation of the work of the mill and the customs of the natives in Rastoke. In the mill there is a possibility to buy flour
+ Food & Beverage - book a rich lunch/dinner after the trip at our restaurant
There is no minimum number to organise the tour. 
Maximum group size is 45 person. On every 45 persons it is necessary to hire an extra guide.
Private guided tour
up to 1,5h
Maximum group size is 45 person. On every 45 persons it is necessary to hire an extra guide.
What are Rastoke?
Rastoke is a small village located near Slunj in Croatia. It is known for its beautiful waterfalls, rivers and old mills.
How can I organize a visit to Rastoke?
You can organize a visit to Rastoke on your own or join an organized trip as part of our travel agency that offers tours to the area. Contact us with the desired date and we will be happy to check availability.
How much time should I plan to visit Rastoke?
It is recommended that you plan at least half a day to visit Rastoke in order to have enough time to explore and enjoy the surroundings. If you plan to combine your visit to Rastoki with other attractions such as Plitvice Lakes, then you should book a full day or several days.
Our tour lasts 1.5 hours and includes only Rastoke and its main attractions, besides that you have many more locations to visit and explore.
Are there restaurants or cafes in Rastoke?
Yes, there are restaurants and cafes in Rastoke where you can taste local food and drinks.
What is the best way to travel to Rastoke?
The best way to travel to Rastoke depends on your preferences. You can come by car, public transport or organized excursion. Rastoke is about a 2-hour drive from Zagreb.
Is a ticket required to visit Rastoke?
No, a ticket is not required to visit Rastoke. You are free to walk around and explore the area without paying an entrance fee.
What is the best time to visit Rastoke?
Rastoke is especially beautiful during spring and summer when nature is more lush and waterfalls usually have more water. However, this area has its beauty throughout the year, so you can visit it at any time of the year.
RASTOKE ACTIVE travel agency
Donji Nikšić 101, 47240 Slunj, Croatia