Quad adventure
Adventurous off road experience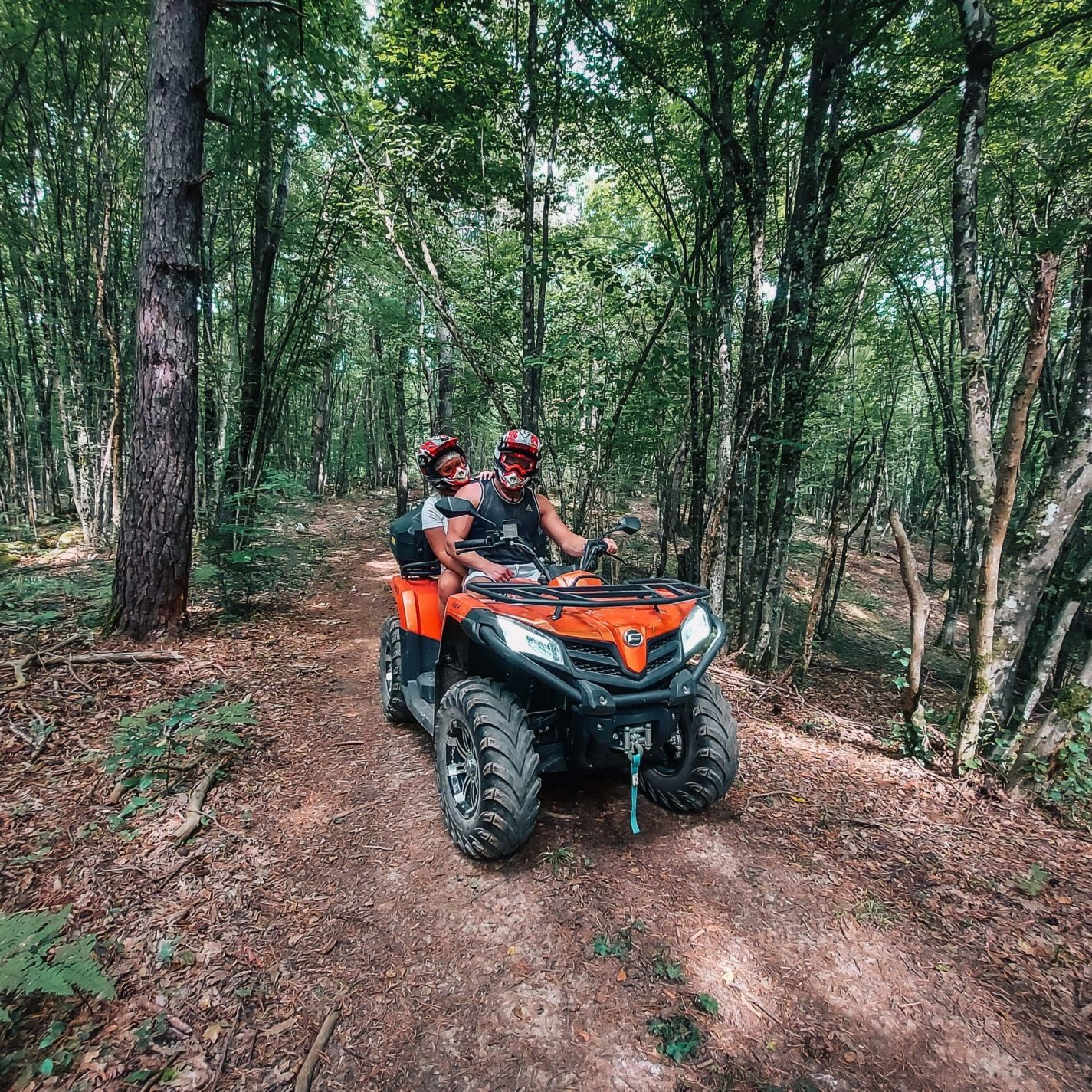 ABOUT
Guided quad tour on off road paths, forrest, landscape view
TOUR TYPE
Guided tour, Adventurous, Family
DURATION
1h – 2h (depending on tour choice)
BOOK NOW
(Pay now – instant confirmation)
Send a request
(Pay on spot – request form)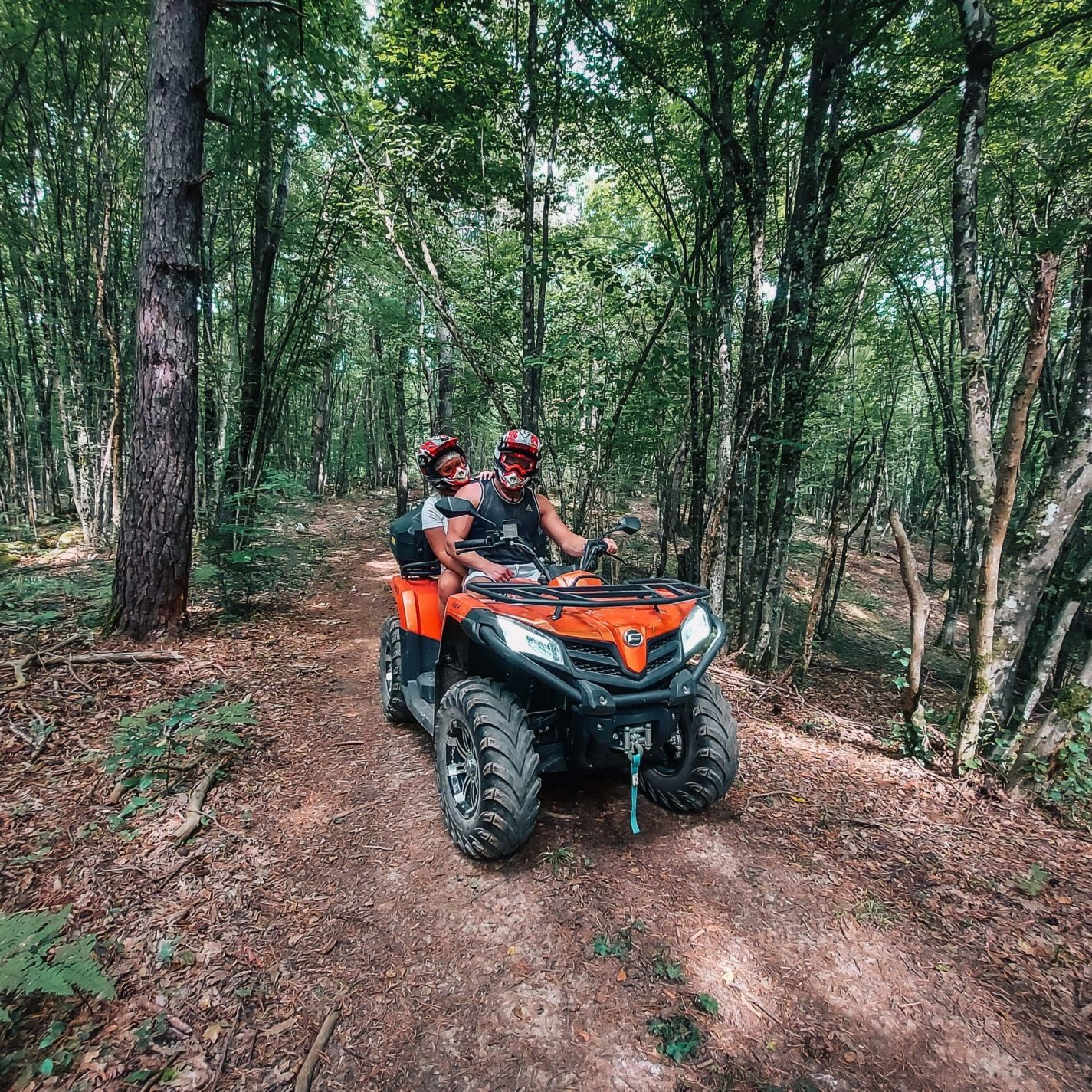 Quad adventure
You are staying in the Rastoke and Plitvice lakes region? Spend your free time actively, embark on a quad adventure, close to the Plitvice lakes and Rastoke waterfall village! Enjoy a fun ride through forests on off-road tracks at your own pace. Adventure and fun are guaranteed!
Equipment and vehicles
All the necessary equipment and fuel, as professional guidence is provided. We provide you with a helmet, goggles and on request you can get a plastic jacket and gloves in case of cold and bad weather. Our quads are CF MOTO CFORCE 450ccm, well maintaned and new quads suitable for 1 or 2 passengers. We also have a KAWASAKI BRUTEFORCE 300ccm in our fleet which is a single passenger quad.
About the trip
Quad adventure is a pleasant ride through meadows, forests and off-road paths accopmanied by trained guides. There are two trails you can choose from.
Trail 1 is 22 kilometers long and takes about an hour and a half to two hours of driving, depending on your experience and speed, as well as how long you will stay on the track if you take pictures along the way, etc.
Trail 2 is slightly shorter, it is 12 kilometers long and takes about 45 minutes to 1 hour of driving. It is an ideal trail if you do not have much time to stay in the destination, and you are looking for a short break in nature and a fun adventure.
Both trails are circular and the start of the trails is in front of the Hotel Mirjana & Rastoke (where our agency Rastoke active is located as well), the exact address is: Donji Nikšić 101, 47240 Slunj. Both trails include parts on asphalt trough a village (shorter parts) and are mainly driven on off road paths - gravel road and off road muddy trails.
Every day - We organise the trip every day during daylight, from morning till evening. Choose your time depending on the availability
✓Guide   ✓Insurance ✓Helmet ✓Goggles ✓Rain jacket (on request)  ✓Gloves (on request) ✓Fuel ✓Quad
+ Food & Beverage - book a table for a rich lunch/dinner after the trip at our restaurant
No previous experience needed
Driving licence B category is mandatory to be a driver on the tour
Minimal recommended age for children (passenger) - 4 years
♦Comfortable shoes (no flip flops and similar) ♦Comfortable clothes (you may get dirty on the tour)   ♦Personal necessary medicine ♦Drinks&Snacks
Driver - It is mandatory to bring your "B" category driving licence and a valid bank/credit card (for renting contract and statement purposes)
Tour 1 - 22km
aprox. 1,5 - 2h
30,00 € / passenger

INCLUDED IN PRICE:
22km trail
Tour 2 - 12km
aprox. 1 - 1,5h
25,00 € / passenger

INCLUDED IN PRICE:
12km trail
Cancelations by Rastoke active travel agency
Since it is a trip that is highly dependent on weather conditions, in case of extremely unfavorable conditions, Rastoke active travel agency reserves the right to cancel or postpone the quad adventure, due to concern for the safety of the guests. If the alternative proposed date does not suit you, the payment will be fully refunded.
Can children join and do they have a discount?
Children can participate in quad driving only under the supervision and responsibility of their parents, but only as a passengers, the strict condition is that the drivers must be at least 18 years old and have a category B driver's license. For children, the regular price for a passenger applies and there is no additional discount.
Is a driver's license required to drive a vehicle?
Yes, a valid category B driver's license is required to drive quads/ atvs and driver should be 18 years old.
What kind of equipment is provided, what should I wear?
All the necessary equipment and fuel, as professional guidence is provided. We will give you protective equipment: a helmet, a disposable medical cap and safety glasses. Dress comfortably, please avoid slippers, good tennis shoes are sufficient. During the cold months, dress warmer and wear clothes that you don't mind getting a little muddy. Also during the winter time it is advisable to bring gloves.
How can we pay? Do we need to reserve in advance?
You can pay in advance or upon arrival, on the spot. Payment is possible in cash and by card (we accept all types of bank cards). It would be good to make a reservation in advance so that you can book the appointment on time, and we can arrange everything with the guides. If you do not have a reservation and would like to go on the same day, it is not a problem, feel free to contact us and we will find a free space for you if possible!
Where is the starting point? Is parking provided?
Start is in front of the Hotel Mirjana & Rastoke (address: Donji Nikšić 101, 47240 Slunj). There is a huge parking place where you can park your vehicle for free.
Do you offer gift cards?
Yes, of course! You can buy the trip for someone else and we can send you a gift voucher per email or you can pick it up in person.
Is it suitable for beginners?
Yes, of course. The whole excursion is carefully planned, and there is our guide who will explain you everything about the vehicles. We adjust the speed up to your skills and the tour is adapted to your skills.
Does the trail go by the waterfalls?
Unfortunately no, the waterfalls are inaccessible from our location. However, the trails are completely in nature, you will enjoy our forests, meadows, and embark on a real off-road experience. Fun and adrenaline are guaranteed!
RASTOKE ACTIVE travel agency
Donji Nikšić 101, 47240 Slunj, Croatia