Rafting
Adrenaline rush on Korana river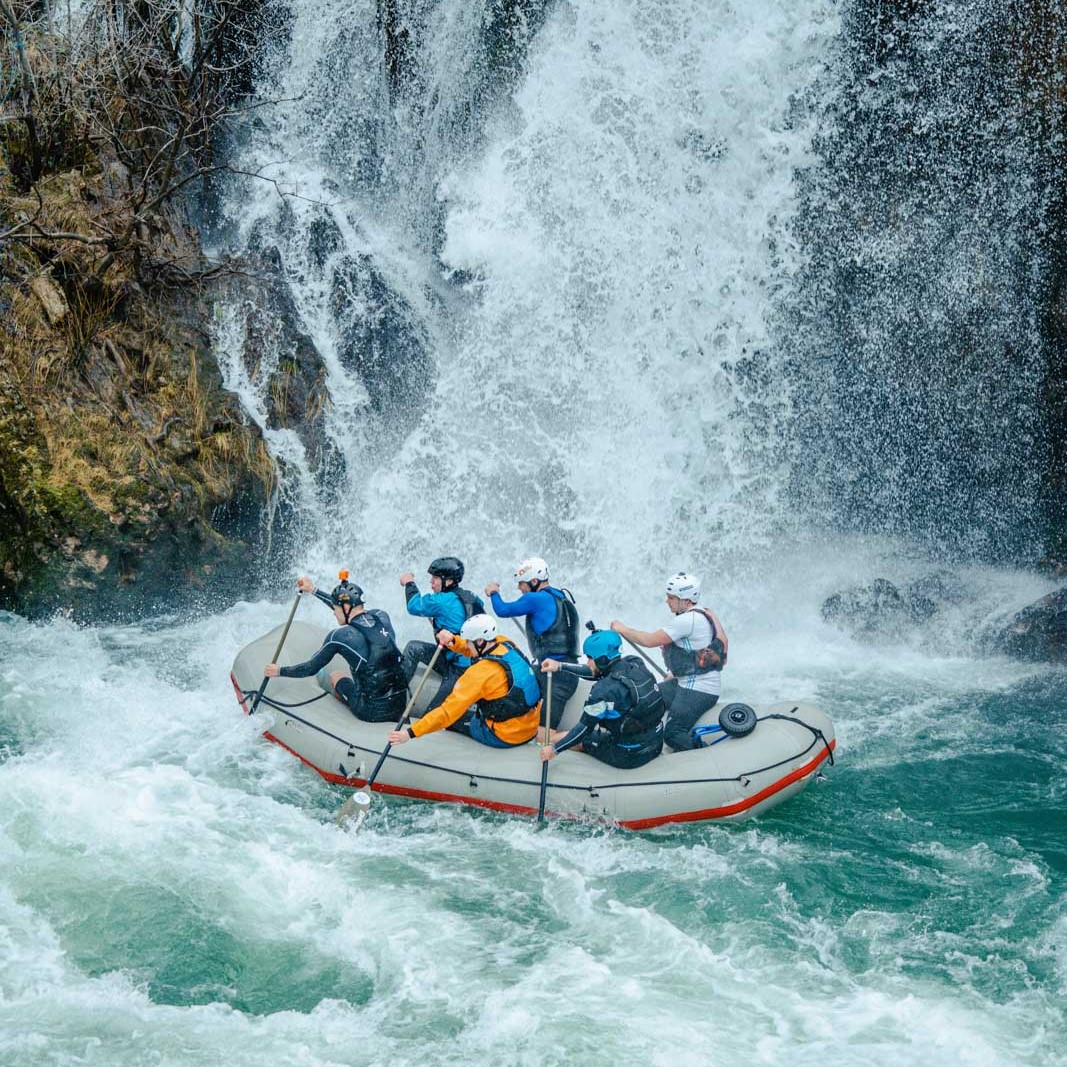 ABOUT
Guided tour on a river, expect fun, adrenaline, beatufiul nature, many waterfalls and rapids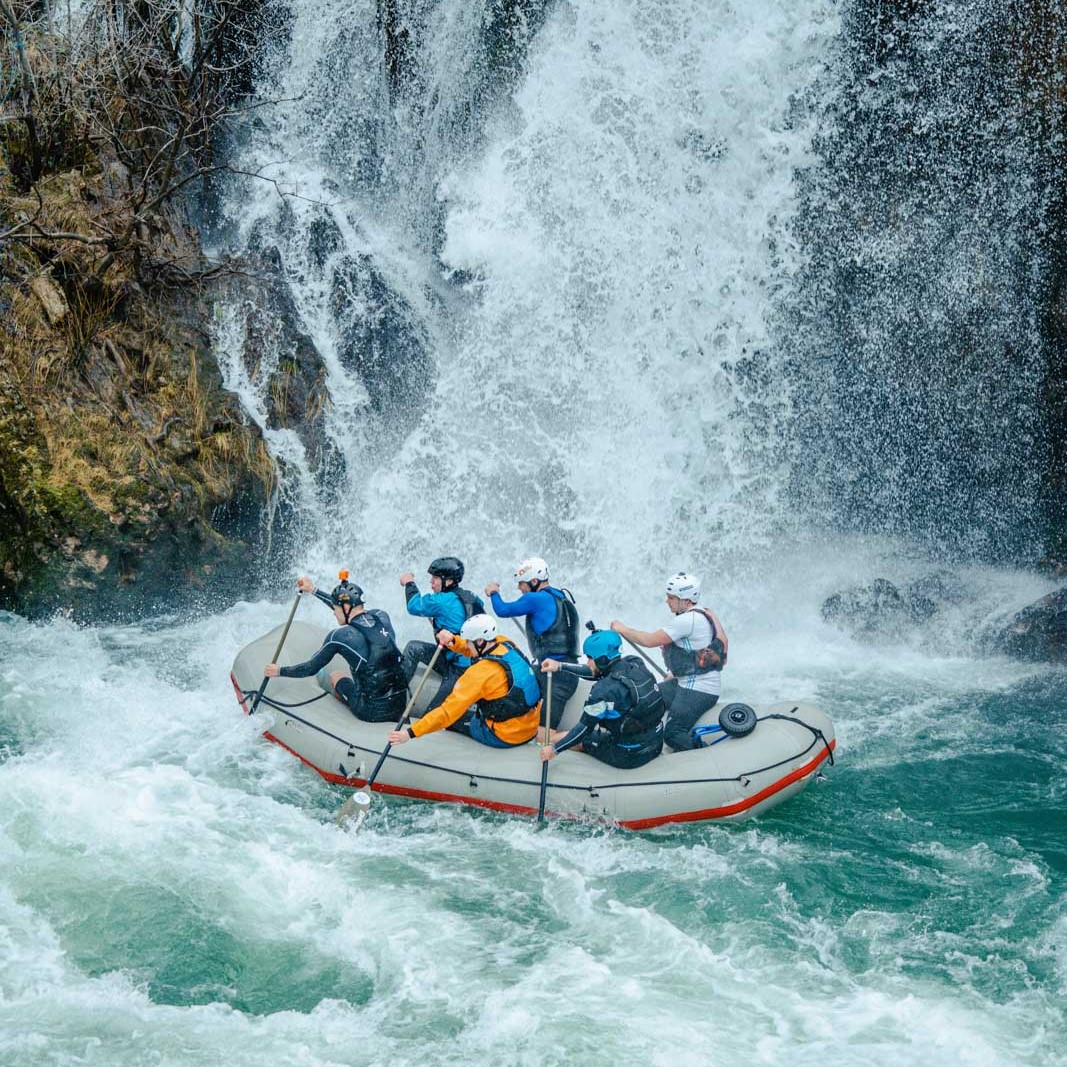 Rafting on Korana river
Literally get to know Rastoke and the famous waterfalls! Rafting on the Korana River takes this most beautiful route, through the very heart of the Rastoke, a waterfall village. If you are a fan of adrenaline, this challenge is right for you. Rafting, however, is only possible during autumn, winter and early spring, as it largely depends on the water level of the river, which must be quite high. If you are interested, feel free to send us an inquiry in order to check the water level and the possibility of organizing this trip.
Equipment
We are rafting in inflatable GUMOTEX rafts that can fit 4 - 7 persons, through many rapids and sedge barriers, where you will feel a rush of the adrenaline and excitement of this sport. The guide is with you in your raft, coordinating and steering. Beside the rafts and paddle we will provide you with professional gear: Helmet, life jacket, neopren suits, neopren shoes, anorak jackets (in cold days) and a waterproof barrel which you can use for your snacks, drinks and other non valuable belongings.
About the river and trip
When you arrive at our place our guides will explain you everything you need to know about the trip. After that all necessary gear will be provided and handed out to you. Once you recive all the information and gear our guides and drivers will drive you with our transportation to the river, at the start point which is located aprox 5 min away.
After arriving to the starting point you will gear up and our guides will explain you all imporatnt iformations about rafting and important infos about the trip.
Rafting Korana is about navigating the Korana river in rafts through a plethora of wild and untamable rapids and sedge barriers where you will feel a rush of adrenalin and the excitement of this sport. You navigate solely through the less accessible parts of the Korana river which makes this an extreme, unforgettable and adventurous experience.
You pass through beautiful river canyons, and there is no populated areas along the stream. On the way you will encounter a few old and abandoned water mills. In this part of the river there are over thirty waterfalls of which all can be crossed by boat.
Morning tour - 10.00h 
*Please arrive 20-30min before!
Morning tour - 14.00h 
*Times may vary depending on the conditions, group size, experience and similar
✓Parking   ✓Guide   ✓Insurance  ✓Transportation ✓Photos&Videos  ✓Wetsuit  ✓Anorak jacket   ✓Paddle  ✓Life jacket  ✓Helmet ✓Neopren shoes ✓Waterproof barrel  ✓Raft
+ Food & Beverage - book a rich lunch/dinner after the trip at our restaurant
No previous experience needed / level of difficulty depends of water level and conditions
Minimal recommended age for children - 8 years (depends on the river condition)
♦Bathing suit  ♦Dry clothes (for changing on the finish point)  ♦Sunscreen   ♦Towel   ♦Water shoes   ♦Towel   ♦Personal necessary medicine ♦Drinks&Snacks
Child (>12 years) - 30% discount

INCLUDED IN PRICE:
Rafting with LUNCH
Meal included
Child (>12 years) - 30% discount

INCLUDED IN PRICE: The same as regular tour
+ LUNCH at our restaurant Rastoke
Menu: Homemade beef soup
Grill platter "Korana" – stuffed burger, ćevapčići, chicken steak (stuffed with cheese wrapped in smoked bacon), grilled sausage, butter with herbs, fresh cheese with herbs, ajvar, rice with vegetables, pommes frites
Apple strudel in vanilla sauce with hot sour cherries topping
*for vegetarians we can prepare an alternative meal*
Cancelations by Rastoke active travel agency
Since it is a trip that is highly dependent on weather conditions, in case of extremely unfavorable conditions, Rastoke active travel agency reserves the right to cancel or postpone the rafting trip, due to concern for the safety of the guests. If the alternative proposed date does not suit you, the payment will be fully refunded.
How much time do we spend on the river?
About 2-3 hours. Depending on how big group is and the experiences of the guests, sometimes our guides will need more time to ensure everyone's safety and properly explain and assist you.
Do children have a discount?
Children under 12 years old have a 30% discount on the price. The minimum age for rafting is usually 8 years, but this also depends on the conditions on the river and the water level.
When is the best season for rafting?
Rafting can be done from September to May, as long as the weather conditions are favorable, because this trip depends a lot on the water level of the river, it should be higher than usual. Therefore, it is best to contact us in advance to check whether the water level is both favorable and safe enough for the trip.
What if it rains, will you cancel a trip?
Rafting can be organized even in the rain, as part of the equipment, you will get neoprene suits that protect you from the cold, so your trip can be as pleasant as possible. Of course, it's up to you to decide whether you want to join on this trip in rainy and stormy conditions and how you feel about it, and it's up to us to provide all the necessary equipment and safety. We can cancel or postpone trip only during the extreme weather conditions, when we estimate that kayaking might not be fully safe for our guests, but you will be informed on time.
Is all equipment provided, what should I bring?
All necessary equipment is provided, you will get wetsuits and water shoes, life jackets and helmets. Please bring swimming costumes or shorts and a t-shirt, and towels. You can also bring soft drinks or water and some food and snacks, we will provide you with waterproof barrels to store your food and belongings. Also bring dry clothes to change after kayaking, as you will get wet on the river.
Can children join?
The program is suitable for children starting from 6 years of age, depending on the water level! Also, for children under 12 years we approve a 30% discount!
Is it suitable for beginners?
Yes, of course. The whole excursion is carefully planned, and there are also guides who will teach you the basics of rafting and take care of your safety. The trip can get a bit rough on higher water levels, but in such case you will be informed in advance so you can decide about it. 
Can i fall out of my Raft?
Our guides will do their best to keep you in the boat, but be aware that there is a possibility that you may fall into the river and get wet. If this happens just stay calm and our guides will come to you, also the river is very calm after the falls so there is no danger. Most people find this part a lot of fun!
What if I'm travelling alone, can I join?
Of course you can. You will share a raft with other persons or group and enjoy the river the same way!
Can non-swimmers join the trip?
Yes, they can! You will be fully equipped, a life jacket will protect you, and this can also be an opportunity to learn to swim, because the river Korana has beautiful natural pools with shallow water that will encourage you to swim. It may get cold but that is sometimes the fun part!
Where is the starting point? Is parking provided?
Start is in front of the Hotel Mirjana & Rastoke (address: Donji Nikšić 101, 47240 Slunj). There is a huge parking place where you can park your vehicle for free. From this point we take you with our own transportation to the river and after the trip we will return you back. Transportation is included in the price. To reach the river, it will take around 5 minutes of driving.
Will we get some photos and videos from the trip?
Yes! Our guides have a GO PRO camera with them and will take pictures and record you all the way, at the end of the trip we will transfer the pictures and send them to your email addresses. Be aware of river conditions, there will be a lot of water and splashing and not every photo or video can be perfectly clear. This is our gift to you because we want you to have a nice memory from your trip and we hope you will appreciate this gesture.
Do you offer gift cards?
Yes, of course! You can buy the trip for someone else and we can send you a gift voucher per email or you can pick it up in person.
What kind of waterfalls and adrenaline can we expect?
We would describe it as a very adventurous trip, there are fast moments full of adrenaline, but also calm parts of the river for paddling and enjoying nature. The whole trip is well planned and definitely not boring. In this part of the river, there are over ten waterfalls, all of which can be crossed by boat. Unforgettable entertainment is guaranteed. It is an ideal program for families or organized groups. You will pass through the most beautiful part of the river Korana including Rastoke the most amazing place.
RASTOKE ACTIVE travel agency
Donji Nikšić 101, 47240 Slunj, Croatia